Tom Gray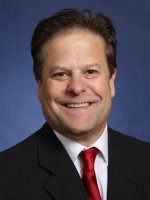 Senior Vice President
Investment Program Manager
Tom is the Member Investment & Insurance Services Program Manager for Educational Employees Credit Union. He is a member of the credit union's senior executive management team, and is responsible for five departments within the credit union.
Tom has lived in the Fresno area for over 25 years. He has been with Educational Employees Credit Union for over 11 years and has served as the Investment Program Manager since 2006. Prior to joining EECU, he was in a management position for a large California-based winery for over 14 years.
Tom graduated from San Diego State University with his bachelor's degree in business management and holds a Senior Professional in Human Resources (SPHR) designation. Additionally, he is on the Credit Union Self-Insured Group board of directors.
Tom is committed to providing innovative solutions for meeting our members' investment needs and to support each investment team member to ensure we are providing the best member service possible.